After researching modifications and after market products for this bike I decided on a few changes. I purchased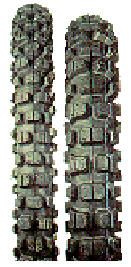 Pirelli MT21 90/90-21 front and Pirelli MT21 130/90-18 rear tires. Their the most aggressive DOT approved kobbies available (a good choice for the largest street legal dirt bike). They hookup great, have predictable rear wheel lockup slide (something the Dunlop K850S that came stock where terrible at due to diagonal kobbies) and they've done great on the street too. They exhibit very little road noise for a knobby and have good cornering and traction characteristics on wet and dry pavement. The fronts cup badly after several thousand miles. Every other knob wears down forcing replacement while the the other knobs have plenty of wear left.
I also re-jetted the carb with a kit from Baja Designs.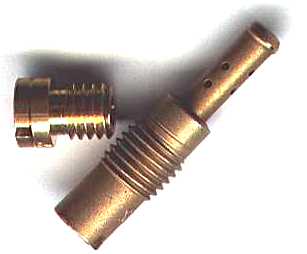 I installed larger main and pilot jets and enlarged the air passages in the slider recalibrating the constant velocity action to performed properly with the increased fuel and air flowing through the carb.
The bike starts easier, warms up faster, has more power and better throttle response than the standard factory emission compliant settings (off road only). Removal of the air box snorkel, a high flow UNI filter and a Suppertrap ERA exhaust round out the modifications to improve my four stroke thumpers breathing.
It feels like I added at least 20 HP. I plan on replacing the front sprocket with a 14 tooth instead of the stock 15 tooth. This will reduce the top end a little bit but 100MPH is plenty fast for me and increasing the gear ratio will give me more hill climbing torque. In the two years I've owned this bike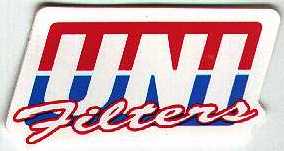 I've only had to replace one major part (due to misuse) and two minor parts (speedo and throttle cable). I burned the clutch basket sleeve bearing doing full throttle clutch popping rooster tails in the driveway. The clutch and bearing aren't swimming in oil like most bikes, the bearing is lubricated by oil forced through passages in the countershaft (dry sump type). Maybe the passage got temporarily blocked. If you own an XR650L don't rev to high RPMs with the bike in gear and the clutch pulled in. I had to make a special tool to hold the clutch basket so I could remove the retaining nut and I couldn't get just the bearing I had to buy a whole new clutch basket with bearing. The repair only set me back $70.00. I saved $25.00 by cutting my own case gasket. My next project is to build a jump on the side yard to give the 13 inch ground clearance, 11 inches of suspension travel and my riding skills a better workout as I tear up the yard. I've also found that the new tires do a great job of grading the driveway. See you in my dust, happy roosting. Kevin